The AIHM Business Plan Competition 2023
Our inaugural business plan competition is a chance for high schoolers to demonstrate their entrepreneurial skills. Pitch an original idea and gain feedback from industry experts. You could win up to THB 40,000, as well as gain something great to add to your college application or resume.
The competition
Our challenge to you is to identity an opportunity for a new venture in the field of hospitality. It could be a product or service for anything from F&B and events to youth hostels, glamping or even pop-up restaurants.
You will then work as a team to prepare a marketing plan. You will be expected to perform basic market research, analyse feasibility, and develop a business model. Your idea must be completely original, and balance creativity with viability.
You'll then present your idea in a recorded video – you can be as creative as you want in terms of format. This is to be submitted by 8 March 2023.
Finalists will be selected to present business plan in person to a panel of judges on 1 April 2023, with three teams going on to win prizes of up to THB 40,000.
The challenge is on!

Who is eligible to enter
Teams of 3-4 students in their final three years of high school in Thailand
How to enter

Present your business plan in short video format, including the following:
An overview of your business concept

Your value proposition

The target market

Key activities and offerings
The video recording should be no more than five minutes. You can use PowerPoint, Prezi, animation, voice overs, etc. As long as you are persuasive, you can be as creative as you like.
The file should be submitted in MP4 format under 100MB, with an opening slide of the business name, students and school represented, to the AIHM competition landing page by 8 March 2023. These videos will then be shared on our YouTube and social media pages. Finalists will be announced on 20 March 2023, and the committee's decision is final.

Finalists will be asked to make an extended 20-minute presentation in person to a panel of judges at the Asian Institute of Hospitality Management (AIHM) on 1 April 2023. All team members must participate, and the following points should be covered:
An overview of your business concept

Your value proposition

The target market

Competitive analysis

Marketing plan

Break-even analysis

Implementation timeline
At the end of the presentation, students should be prepared to answer questions from the panel.
WINNERS ANNOUNCED!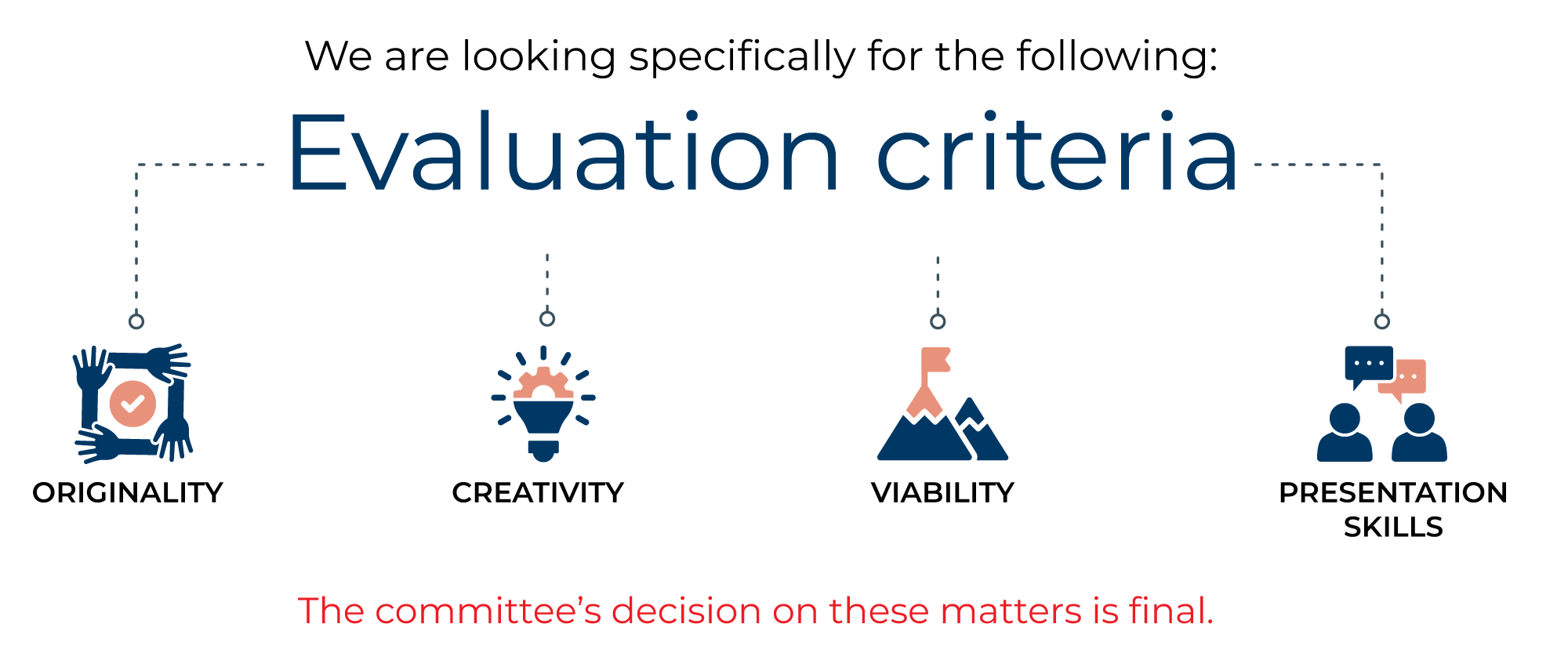 Key dates
8 March 2023: Submission of elevator pitch
20 March 2023: Finalists announced
1 April 2023: Presentation by finalists in person at AIHM
1 April 2023: Winners announced and prizes awarded
Prizes (sponsored by GHA)
1st prize: THB 40,000
2nd prize: THB 20,000
3rd prize: THB 10,000
The winning team will receive an AIHM GHA trophy, and all finalists will receive a certificate.
Competition rules
Only students registered by their school can enter the competition.
All team members must be in their last three years of high school.
All team members must be studying in Thailand.
Video entries over the five-minute time limit will not be considered.
All entries must be submitted to the AIHM website.
Late or incomplete submissions will not be considered.
All work must be original, with proper referencing. Plagiarised ideas will be immediately disqualified.
Presentations in person will be cut short if they run over 20 minutes.
The judging committee's decision is final.
While the copyright of video presentations remains with students, AIHM claims the right to publish them and use them for promotional purposes.

SPONSORED BY

GHA DISCOVERY is a programme that connects the independent brands and unique hotels of Global Hotel Alliance. Rewarding members with instant benefits, unique experiences, and DISCOVERY Dollars (D$) to enhance each journey.

​It welcomes and rewards members both when they are travelling and while they are in their home market. Through its 'Live Local' concept, it creates a member community and offers access to local hotels' facilities and events.

GHA DISCOVERY drives repeat stays booked on direct channels, incremental spend across the hotel, and cross-brand engagement.
If your school is interested to participate in this activity, please provide us with your information by filling in the following form.

BANGKOK CAMPUS
Avani+ Riverside Bangkok Hotel
9th Floor, 257 Charoennakorn Road,
Samrae, Thonburi
Bangkok 10600, Thailand
PATTAYA CAMPUS
Royal Garden Plaza
3rd Floor, 218 Moo 10, Beach Road,
Nong Prue, Bang Lamung
Chonburi 20260, Thailand
Copyright© 2023 The Asian Institute of Hospitality Management (AIHM)